2011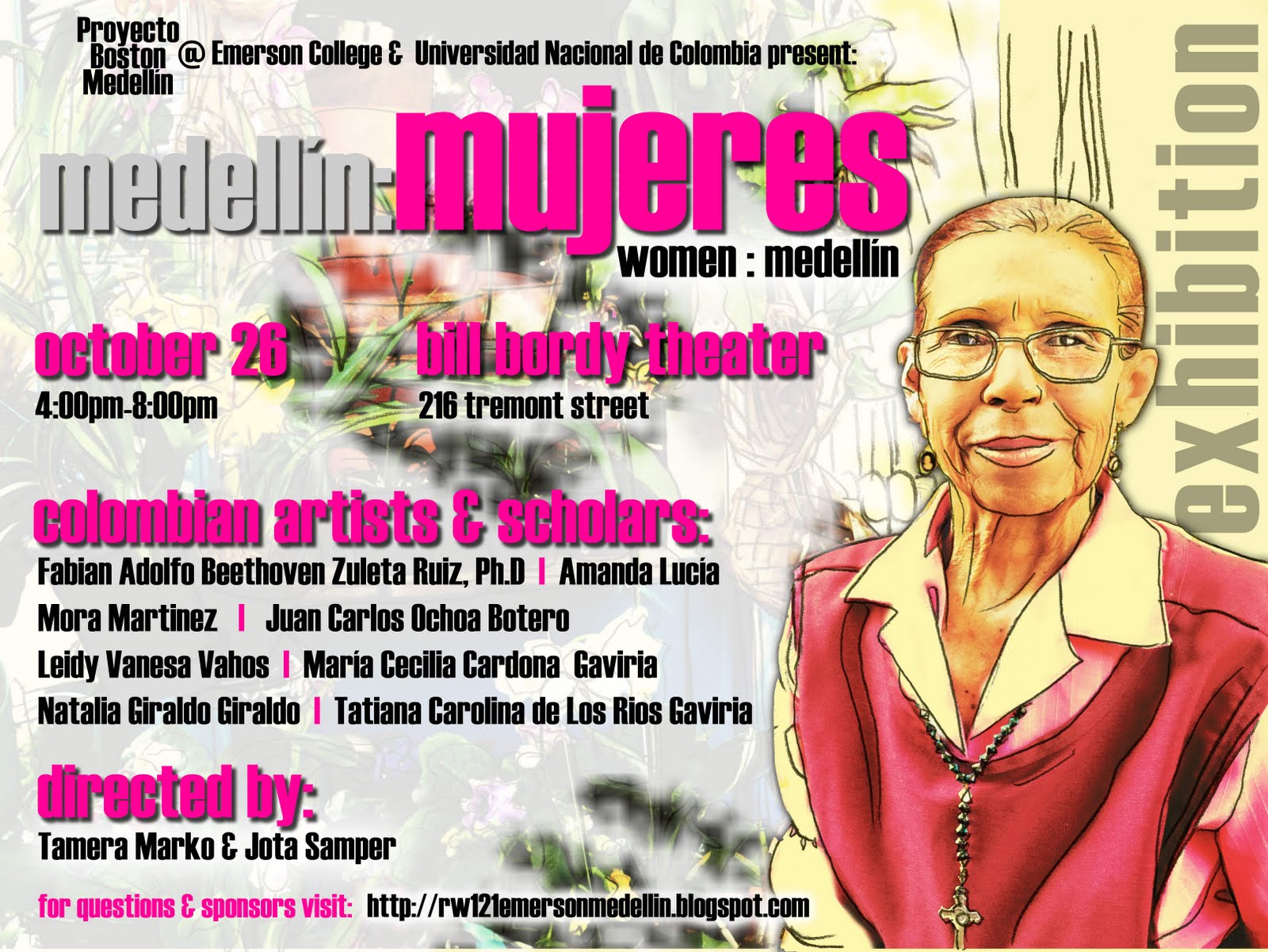 The artists
Leidy Vanesa Vahos
Natalia Giraldo Giraldo
Maria Cecilia Cardona Gaviria
Tatiana Carolina de Los Rios Gaviria
If you type "Mujer" + "Medellín" in Google, most of the first 15 pages direct us as browsers worldwide to prostitution, mail-order brides and sex tours. In this exhibition, we seek to complicate these representations of women in Medellín by including diverse social, cultural, and physical contexts in which women build the city of Medellín.
This exhibition features photographs, video, written word and an interactive multi-media living room installation made by and about women who are Medellín's community leaders, mothers and daughters, actors in armed conflict and peace workers in this city that has suffered successive cycles of violence.
More than 120 Emerson students in First Year Research Writing classes collaborated with PBM exhibits' young emerging artists via Facebook and video-conference to bring the art and the artists to this exhibit.
2010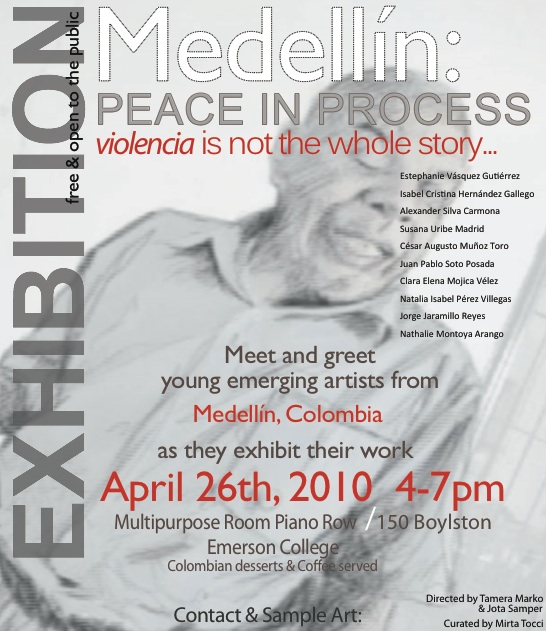 The artists
Estephanie Vásquez Gutiérrez
Isabel Cristina Hernández Gallego
Alexander Silva Carmona
Susana Uribe Madrid
César Augosto Muñoz Toro
Juan Pablo Soto Posada
Clara Elena Mojica Vélez
Natalia Isabel Pérez Villegas
Jorge Jaramillo Reyes
Nathalie Montoya Arango
For more than 4 decades, the most well known Boston-Medellín connection has been cocaine. We seek to create a more complicated, more accurate connection and image of Medellín: art and education as peace process. The main theme of the exhibit is "la vida cotidiana como fuerza de paz / everyday life as peace force." We want youth to show their city in their own words and images. We do not seek to hide violence. Rather we believe that to show any city only through the lense of violence makes invisible to the world the efforts of our communities and families at everyday life as peace force. This invisibility is also a violence. It reduces Colombia and Colombians to nothing more than violence, poverty, and drugs. It makes it easy for us to fear this country, this city, "them." Fear makes it easy for us to choose not to know. We, as citizens of our city, our country, our world, believe that we need more than just fear of each other; we need to see ways we are connected to each other. This is why we want to show you that in Medellín, violence is not the whole story. Bienvenido a Medellín.